Women's Book Club
June 27th - July 11th, 2017
Embrace Your Identity and Purpose in an Age of Confusion and Comparison
In Without Rival, bestselling author Lisa Bevere shares how a revelation of God's love breaks these limits. You'll learn how to stop seeing others as rivals and make the deep connections with your Creator you long for—connections that hold the promise of true identity and intimacy. With biblically sound teaching filled with prophetic insight for our day, Lisa uses humor and passion to challenge you to…
This is a book study for ladies. We will be meeting 6 weeks starting on May 30th from 6:30p-8:00p (we will skip the 4th of July) and wrap up our meetings on July 11. We will be discussing the book Without Rival by Lisa Bevere. Ladies are encourage to invite friends and family.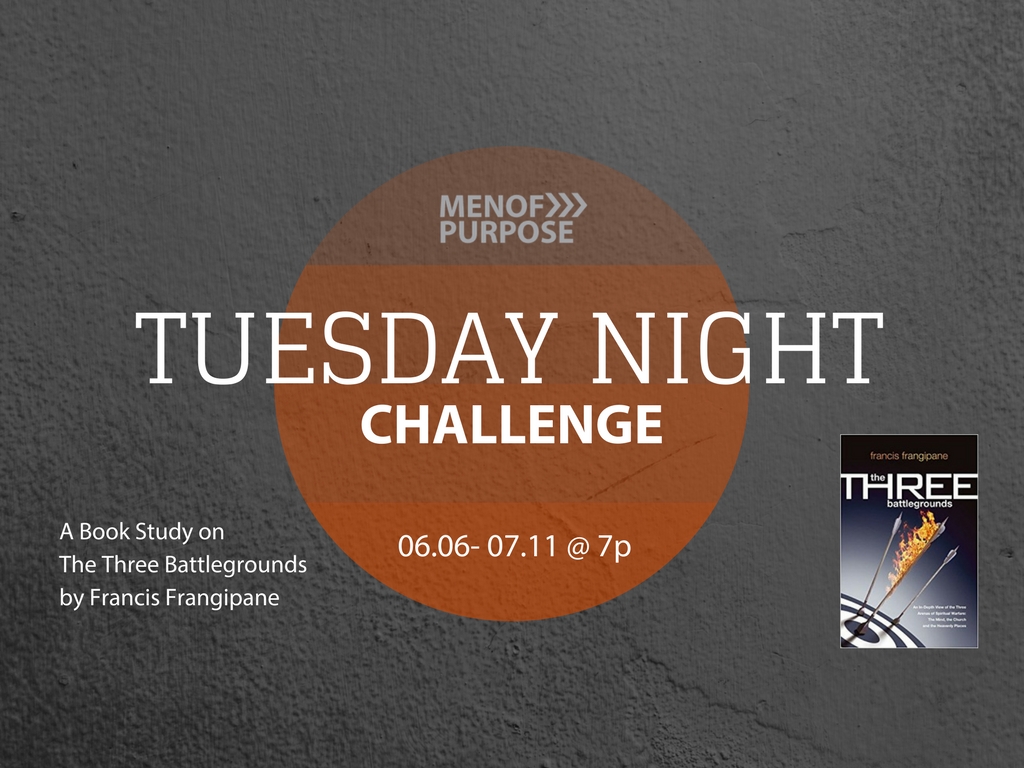 Men's Tuesday Night Challenge
June 27th - July 11th, 2017
This is a men's book study on the book The Three Battlegrounds by Francis Frangipane.
About the book: Any time the Spirit of God's kingdom is truly manifested in the earth, it will ultimately confront the strongholds of hell. Indeed, wherever evil spirits have either a foothold or a stronghold, you can expect that the overcoming church will be engaged in warfare, and expect also that the gates of hell will not prevail against the church that Jesus builds.
In this book, Francis Frangipane explores three arenas of spiritual warfare that the maturing Christian will face: the mind, the church and the heavenly places. It provides a foundation of insight, wisdom and discernment on the nature of the battle and the keys to victory.
OCTC - Financial Fundamentals-"Getting A Grip On Your Money"
June 28th - July 26th, 2017
$20
Do you feel like you don't have enough money at the end of each month? Do you feel like you are staring at a mountain of debt? Do you have questions about handling your money? Are you struggling to figure out how to tithe when you can't always pay your bills?
This class was built specifically to address the most important parts of financial freedom: learning to put God at the center of your finances, developing a budget and creating a debt reduction plan. With principles straight from the Word of God, our goal is to encourage steps toward complete financial freedom.
This class will have approximately 1-2 hours of homework each week depending on your financial situation.
NOTE: You must register ALL children for OCTC Kids class/childcare at the following OCTC Kids
OCTC Kids - ABCD's of Prophecy
June 28th - July 26th, 2017
Kids can have a chance to learn too while the adults are participating in the OCTC classes. Even if you're not taking an OCTC class, you can still register your child for kids' Wednesday night activities from June 21-July 26.
During this class children in 1st-5th grade will participate in the ABCD's of Prophesy. Kids will dive into the fundamentals of Prophesy while being activated to participate with Heaven in releasing life everywhere they go.
Children 3 months through Kindergarten will be provided childcare.
OCTC - Basic Training for Prophetic Ministry
June 28th - July 26th, 2017
$50 - $70
The gift of prophecy is not reserved for a super-spiritual, elite group of believers. In fact, the scriptures promise that in the last days, the Holy Spirit would be poured out on everyone in the world. This spiritual outpouring will manifest in a resurgence of the gift of prophecy that is to affect every believer, young and old, male and female, rich and poor!
If you are a Christian, the Holy Spirit lives inside of you. This means that you have access to all of His supernatural gifts and you too can prophesy! Come and learn how to get started or learn how to develop your prophetic gifts!
CLASS PRICE INCLUDES COST OF WORKBOOK
NOTE: You must register ALL children for OCTC Kids class/childcare at the following OCTC Kids
Partnership Class
July 9th - July 30th, 2017
Kids Cove Premiere
August 2nd, 2017
Mark your calendars for this epic Red Carpet Event for preschool - 5th graders. During Kids Cove Premiere, we will cast vision for the future, celebrate each student's successes with awards and trophies, and recap some amazing Kids Cove highlights. God is moving in these world changers and you want to be there to witness it!